04.11.2022
ADMIN HLAVNÍ
Autor
A few festive days in autumn are the perfect opportunity for a long weekend in the countryside or even a trip abroad. We'll advise you on how to choose a travel bag for short or longer trips. What kind of bag will be the best partner for the plane flight, what colour and material should you choose to make it last forever? Find out this and much more about travel bags in this article. 
Which size of travel bag to pick?
We are all familiar. You've planned your trip or holiday, everything's arranged and there's only one thing left to do. Pack accordingly. And that's often the major pitfall. You don't want to pack too little so you don't miss anything at every event. On the other hand, few of us own Hermione's bottomless satchel that can fit everything. The stylish women's shoulder travel bag Rimora comes close, and is the perfect choice for longer trips and extended excursions into the great outdoors. 
If you're going on a multi-day business trip and need to represent yourself properly, check out our elegant new arrival Manner! Another bag we recommend is the women's small Jessie travel bag. And what makes this bag special, you ask? You can simply clip it onto the stroller, making it perfect for outings with baby. At the same time, mums-to-be will love it when packing all the essentials for the delivery room.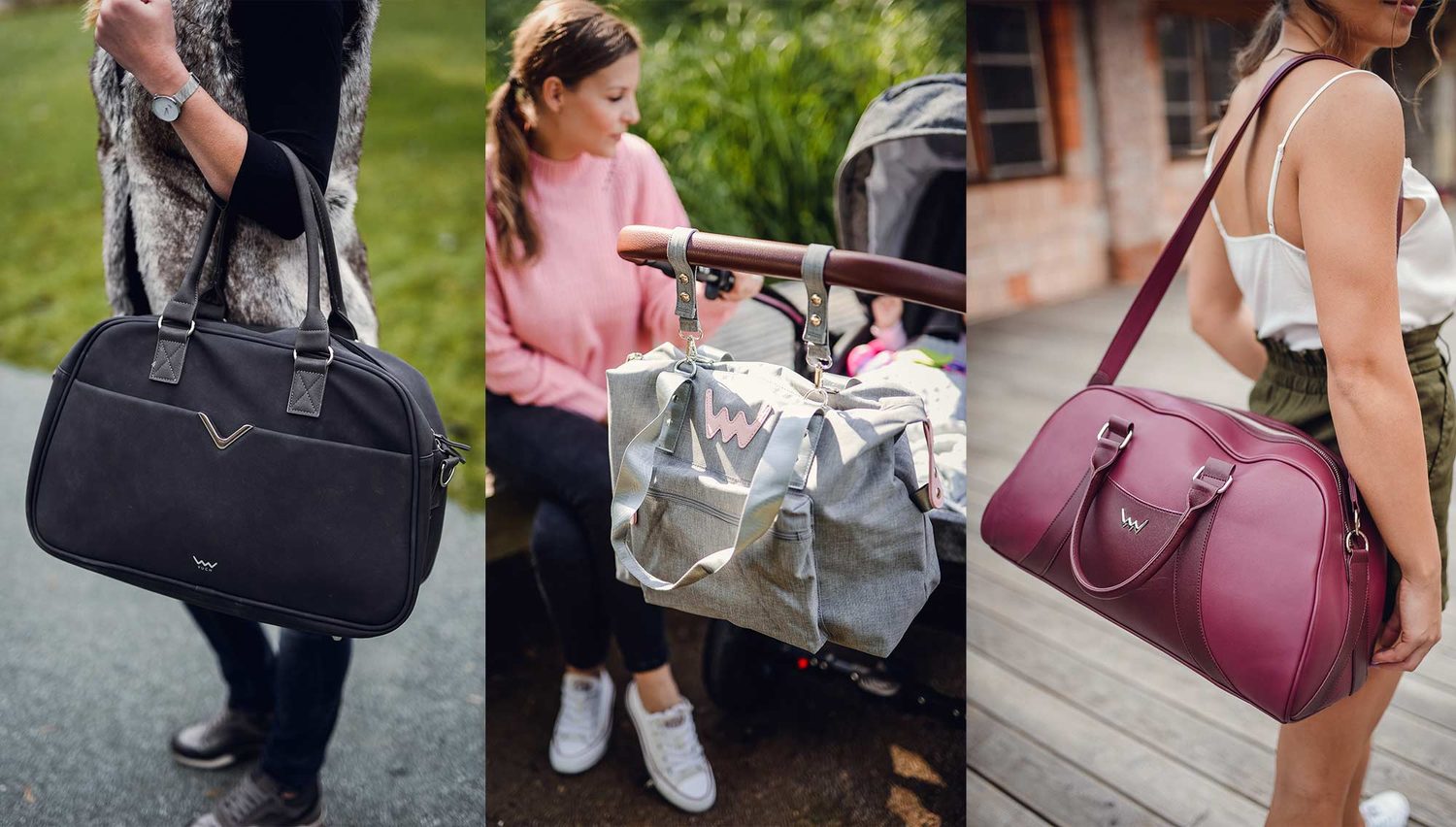 How to travel abroad?
And what if you want to take your bag on the plane? No problem! You can usually take cabin and carry-on luggage on board as long as you have paid for it as part of your ticket. A carry-on bag is the perfect choice for the airport. It allows you to find what you need quickly and easily. And it comes in handy when you have to show your passport and boarding pass several times in a row at the airport. The dimensions of both bags depend purely on the airline's specifications, but normally the maximum size of a carry-on bag is set to fit comfortably under the seat in front of you.
Bet on quality materials
Material is also an important attribute when choosing a travel bag. It is an item that we want to keep for as long as possible, so it must be robust and resistant to various wear and tear. 
It definitely depends on where you are traveling. Pull out the more luxurious materials for a hotel rather than a punk trip to the countryside or under a tent. For that, just take out synthetic fabrics like polyester or polyurethane, which are more adaptable to any activity and easier to clean.
Choose the colour of the bag according to your personality and your favourite shades. However, as an unwritten rule, it's better to choose elegant pieces in simple neutral colours for work trips and go crazy with multi-coloured options and patterns for sporting events or leisure weekends. The advantage is that they won't get dirty, and they'll add to your style.
You have to pack efficiently
You've already chosen your bag, now it's time to pack. How do you put everything in the bag so the clothes don't get wrinkled? Make sure you start by assessing what you really need and avoid accidentally packing two identical sweaters or something that will stay in your bag for the duration of the trip. First, pack anything heavy or large, such as shoes, sweaters or pants, in the bottom of your bag. You can stack t-shirts, shirts, underwear and lighter clothes on top of that. If you're bringing something fragile, pack it in a towel or sweatshirt. 
Travel organizers are also great packing aids, as they are quite stackable and help you make the most of your bag space. These can also be shoe organizers that you can stuff smaller pieces of clothing into to make use of the available space. Another tip is to roll your clothes into rolls. Not only does this allow you to fit more stuff in your bag, but it also keeps your clothes from wrinkling. And that's what we all want!
So go on a trip and take your Vuchka with you. You can be sure that it will be the best partner for every adventure!
ARTYKUŁY POLECANE